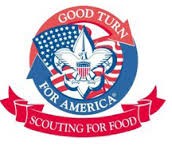 2018 Scouting for Food Drive
A Cub Scout promises to "give goodwill" and a Boy Scout promises "to help other people at all times." There is no better way to show our Scouting Spirit than by participating in the annual Scouting for Food drive! Now is the time to show our community the Scouting values of being loyal, helpful, kind and cheerful.
Scouting for Food kickoff will be January 11 during the local roundtable meeting. This is when Scouts throughout the Central Georgia Council help make a difference to fight hunger. Scouting for Food is the leading service program for Boy Scouts of America and is a part of the national BSA program - Good Turn for America.
How Can Your Unit Help Make a Difference?
Appoint a scouting for food coordinator

Promotional flyers will be passed out January 11, 2018 during roundtable (Kick-off)

On January 12-14, January 19-21, or January 27-28, have your scouts in full uniform while placing flyers in local communities

Ask for food door-to-door (use the buddy system)

If there is no answer move onto the next door

Collect and turn in all food related items to Middle Georgia Community Food Bank or your local food bank by February 2nd. Please submit the unit participation roster to the council office.
Middle Georgia Community Food Bank,
Address: 4490 Ocmulgee E Blvd, Macon GA 31217
Phone: (478) 741-8777 Operational hours: Monday-Friday, from 8:30am-5:00pm
*Please record the amount of food that was collected and report the results to your unit coordinator. 1 can = 1 pound
2018 Scouting for Food Guidebook
The Perfect Scouting for Food Bag
The products depicted are representations only and are not intended to indicate sponsorship or endorsement by the product manufacturers.
Question: With so many canned food options on the store shelves, how do I know what items are best to donate to food drives such as Scouting for Food?
Answer: After consulting with numerous food panties in the Central Ga area and seeking nutrition advice this is what I compiled. The Perfect Bag contains variety of nutrient-rich foods from all five food groups.
2 cans of hearty soup, stew or chili: Supplies many nutrients.

2 cans of tuna, chicken, turkey, salmon or luncheon meat (e.g., Spam): Contains protein and iron. Canned salmon is a source of calcium and omega-3 fatty acids.

1 can of fruit: Supplies vitamins A and C, folate, potassium, fiber and other healthy substances.

1 can of 100 percent pure fruit or vegetable juice: Contains vitamin C and often beta carotene.

1 can of vegetables: Supplies beta carotene, vitamin C, folate, complex carbohydrates, fiber and potassium.

1 can of tomato or pasta sauce: Contains vitamins A and C, as well as lycopene, a healthy substance that is more available to your body in canned and cooked tomatoes than in fresh.

1 canned meal: Offers a variety of ingredients and nutrients.

1 can of beans, refried beans or lentils: Contains plenty of protein, complex carbohydrates and fiber.

1 can of evaporated milk: Makes an excellent source of calcium and protein.