Choose which weekend works best for you:
OCTOBER 19-21, 2018 or OCTOBER 26-28, 2018
Camp Benjamin Hawkins
Fee before October 5th:
Scouts/Siblings: $18
Adults: $5
TWO WEEKENDS, TWICE THE FUN!! Register your unit and/or scouts for the weekend that makes the most sense for your schedule.
Spook-O-Ree, a Halloween event, will feature multiple events, and traditional scout activities. We hope
hundreds of scouts and their families will come out to CBH and participate in themed events and games.
Come out to participate in a Carnival Extravaganza which includes 25 events/activities throughout the
day. Some events planned include: BB, Archery, Slingshots, Handi Crafts, Carnival Games, fun house, and
much, much more. The evening will be packed with a 'Haunted Hike', Trick-or-Treating, and of course a
'Spooky Campfire'. If you are ready for FUN! FUN! FUN! Then this event is for you.
This is a Family Friendly event, so Moms, Dads, and Siblings are ENCOURAGED to attended.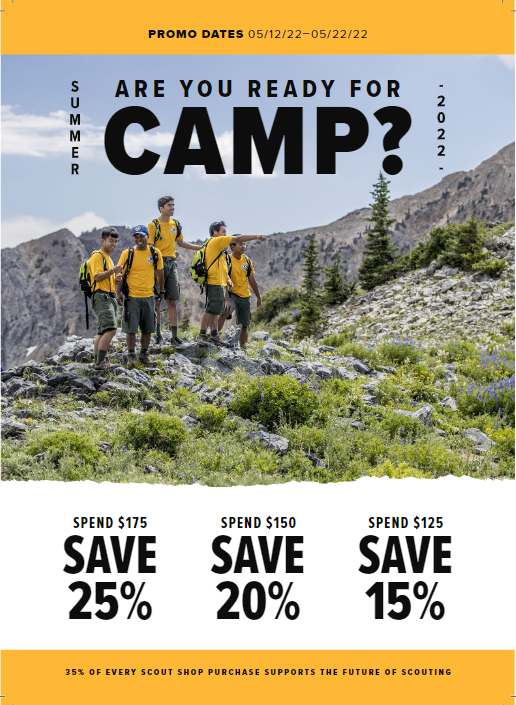 When: Friday afternoon: 4pm-until – to help with registration, parking, and directing of traffic;
Saturday – ALL DAY to help run events/activities
Sunday – Morning Program Take down of decorations/General Clean-up
Where: Camp Ben Hawkins, Byron Georgia
What: We hope hundreds of scouts and their families will come out to CBH and participate in themed events and games.
We need staff: To help put on a great event, we need the help of Boy Scout troops and Venturing crews like yours. We are looking for Boy Scouts, Ventures, and adults to help staff these areas:
We will do our best to place staff in the areas they would like to work, but to ensure the success of the event for our
participants, staff will be assigned to areas based on need.
What you get: Besides the opportunity to show kids a fun time, everyone participating on staff will receive an event staff t-shirt, this year's patch, and certificate of hours worked at event. Staff will also be provided all Saturday meals, and Sunday breakfast. Troops/Crews are encouraged to camp overnight in the CBH STAFF AREA near the parking lot. Please remember to bring your medical forms and log your service hours for this event.
Requirements for staff: All staff should be at least Boy Scout age and responsible to an adult in attendance. The staff is asked bring a Scary Costume to participate in the Haunted Trail. Anyone participating on staff should be available during the entire time slot assigned. Assignments will be given out at the STAFF MEETING, Friday evening of events. @ 9 pm.
There is no cost to staff.
More information: Check out the Cub-O-Ree Flyer, and information on the Central Georgia Council Web page. You may also contact Laura Mixon at 478-297-0185, Or email her at laura.mixon@cox.net