BALOO Training (CBH)
BASIC ADULT LEADER OUTDOOR ORIENTATION
BALOO Training will be offered at Camp Benjamin Hawkins on April 22nd-April 23rd, 2022.
This is the New BALOO which has two parts. Part one is to be completed online at My.Scouting.org. The training consists of eight modules that must be completed before attending part two in person.
Part two which includes practical applications includes overnight camping. Each Scouter must be current in Youth Protection Training, should already be Position Trained, and will need to bring their completed Health Forms when they arrive.
For more information please reach out to Steve Skinner at (478) 394-1449 or skinners1963@att.net.
Each Cub Scout Pack must have at least one Leader that is BALOO Trained for any outdoor overnight camping event, but it is recommended that each pack have at least three BALOO Trained Leaders.
BALOO Training (CBH) September 17, 2022 to September 18

Super Council Training Day (CBH) October 01, 2022

Leader's Shooting Sports Day October 22, 2022

Register Today

SM/ASM Training November 11, 2022

Register Today

Wilderness First Aid Training November 12, 2022

Register Today

IOLS Training November 12, 2022 to November 13

Register Today

University of Scouting (CBH) January 21, 2023

Register Today

RSO Class (Council Service Center) January 28, 2023

Register Today

SM/ASM Training February 10, 2023 to February 11

Register Today

IOLS Training February 11, 2023 to February 12

Register Today
Wilderness First Aid Training March 18, 2023

Archery Level 1 Training March 18, 2023

BALOO Training April 22, 2023 to April 23

SM/ASM Training May 19, 2023

IOLS Training May 20, 2023 to May 21

Fundamentals of Training August 16, 2023

Trainer's Edge August 19, 2023

CPR/First Aid Training August 26, 2023

BALOO Training September 16, 2023 to September 17

Super Council Training Day September 30, 2023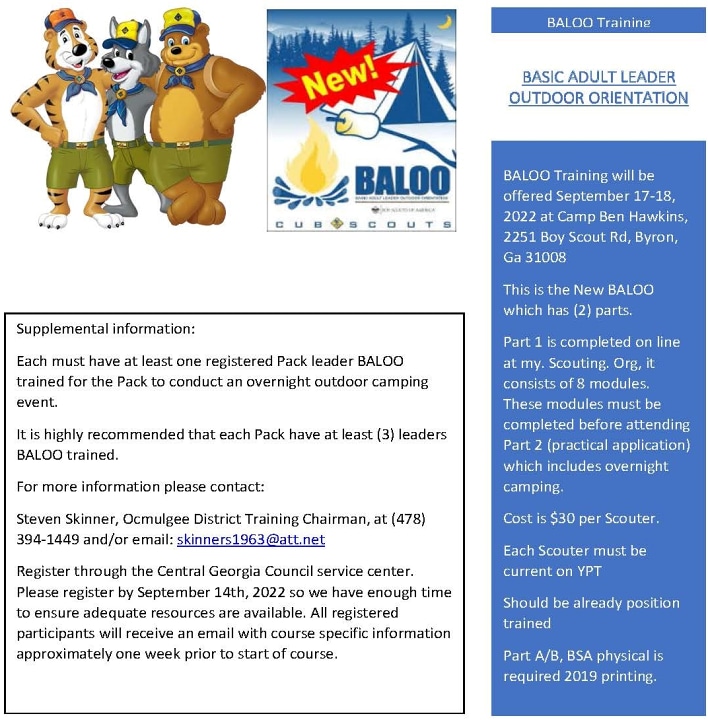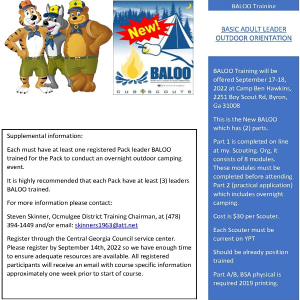 | File Name | Description | |
| --- | --- | --- |
| Health Forms A & B | | Download |