Cub/Webelos Expedition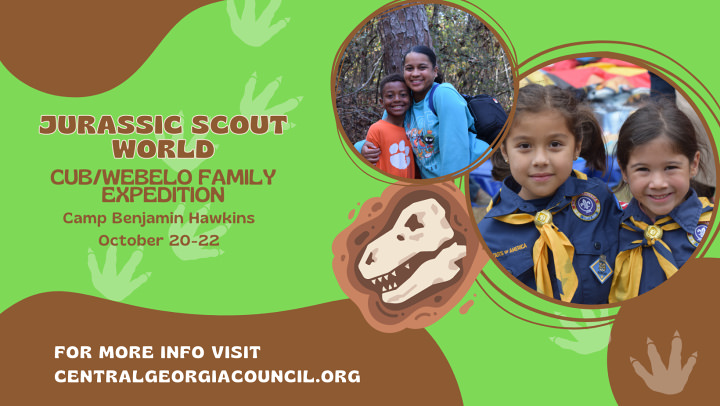 Calling all Cub Scouts! Join us at Camp Benjamin Hawkins for a weekend of family fun and adventure! This will be an unforgettable experience with activities for the whole family!
Please read through the Field Guide for more information!
The Cub and Webelo Expedition Weekend experience provides a fun outdoor weekend camp experience for Cub Scouts and their Family. Family camping offers parents a great chance to share quality time with their children and camp is a place for parents to let down their hair and become one of the gang. Making camp, building fires, cooking meals, cleanup and all related camping tasks become shared experiences. This shared living in camp strengthens the family. If it is good for the kids, it is good for the parents. If it is fun for them, it will be fun for the parents too.
Family camp may be the first camping experience for many participants. It provides an environment for parents to introduce themselves and/or their children to the tent camping experience and the Council organized camp experience. Parents and children gain confidence that the Cub Scout can camp at future Council organized events with their unit. Although activities at the Cub Family Weekend do not count towards advancement for the Cub Scout, the primary focus of the camp is fun in the outdoors for all participants.
View flyer Here.
If you purchase a meal ticket, please be sure to add any dietary restrictions to the "Registration Notes" tab so that we can accomodate your restriction. Please contact Jeannetta Stokes- jeannettastokes@gmail.com with food restrictions.
Make sure to bring health forms to registration at check-in.
Cub Family/Webelos Expedition 2023 October 20, 2023 to October 22

Register Today
Cub/Webelos Expedition 2024 October 18, 2024 to October 20